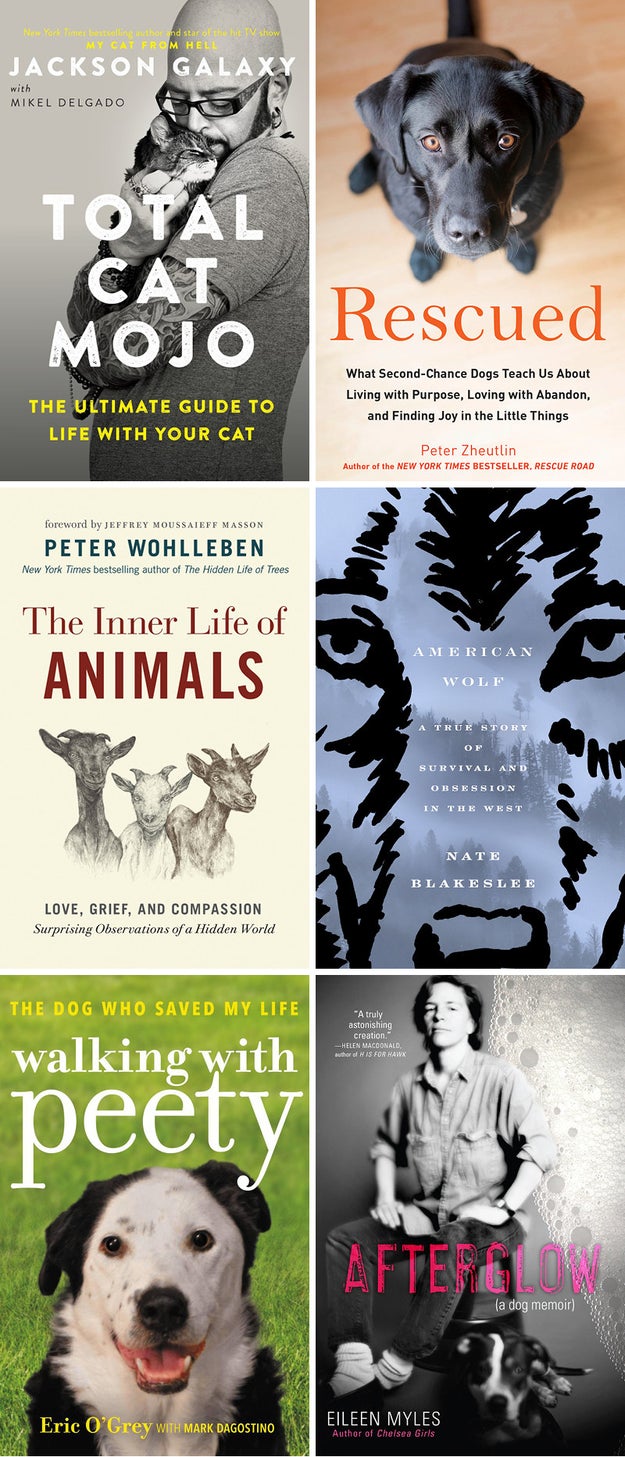 Penguin Random House / Hachette Book Group / Greystone Books / Grove Atlantic
You don't have to live with animals to be moved by stories about them, but those who do might especially appreciate these. For dog lovers there's Rescued: What Second-Chance Dogs Teach Us About Living With Purpose, Loving With Abandon, and Finding Joy in the Little Things, which does exactly what its subtitle promises but, be warned, will inspire any reader to immediately go out and adopt as many dogs as possible. (Check out a preview here.)
Ditto Eric O' Grey's Walking With Peety, the tearjerker true story of a man whose doctor recommends a shelter dog, Peety, when he's diagnosed with Type 2 diabetes — and how Eric and Peety go on to save each other's lives.

Total Cat Mojo by Jackson Galaxy is "the ultimate guide to life with your cat" but the life-long cat mom or dad will find it as valuable as the first-timer. It won't just teach you how to care for your cats — it will teach you how to understand them.
The Inner Life of Animals — Peter Wohlleben's follow-up to his charming The Hidden Life of Trees — is a delightful, fascinating look at the emotions exhibited by different breeds. Nate Blakeslee's American Wolf reads like a novel, following the life of O-Six, the legendary alpha female Yellowstone wolf.
And though Eileen Myles' Afterglow will especially resonate with a reader who knows what it's like to love a pet like family, this memoir is for anyone open to abstract, big-question thinking about consciousness, life, and whatever comes next. Myles' "dog memoir" — at its core, an autobiography about Myles and her beloved, late dog Rosie — is groundbreaking in its form and is most likely best for someone comfortable with experimental literature.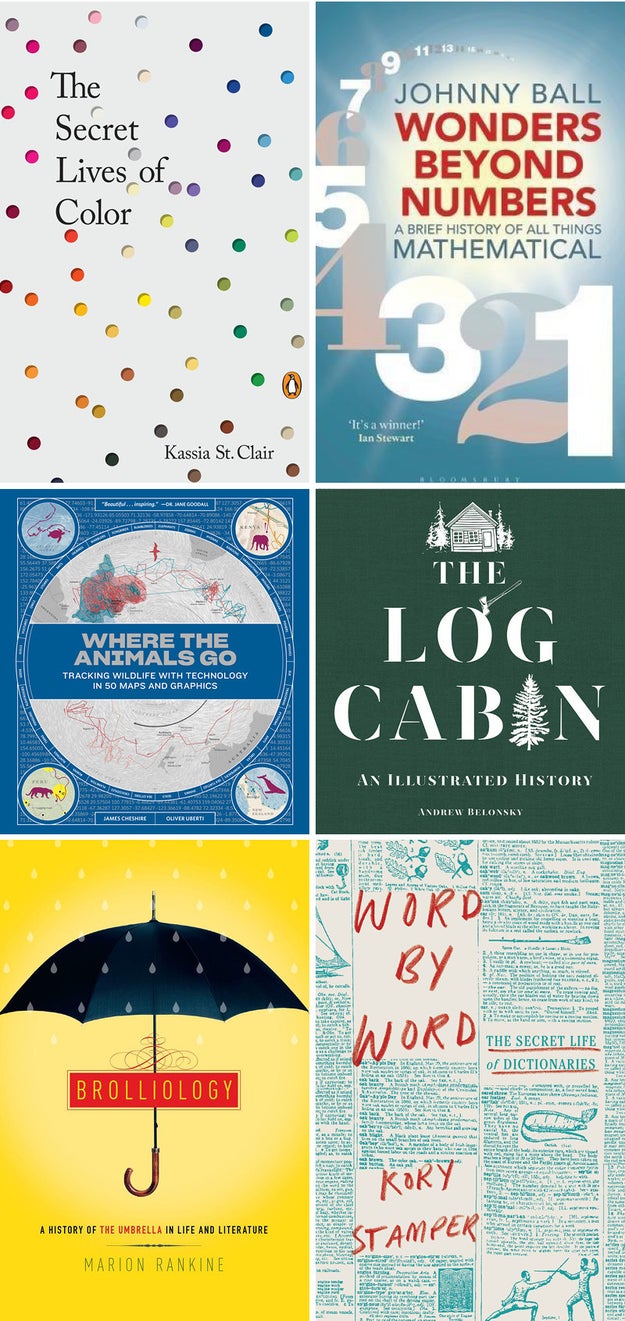 Penguin Random House / Melville House Books / Countryman Press / Bloomsbury / WW Norton
Listen, you might think facts about umbrellas, colors, or log cabins wouldn't make for interesting books, but you would be WRONG — especially when it comes to people who can't get enough of random little tidbits. Kassia St. Clair's The Secret Lives of Color asks readers to look at color in a new way — through history (preview here); Marion Rankine's Brolliology dives into the historical context, social connotations, and literary implications of umbrellas; and Andrew Belonsky's The Log Cabin: An Illustrated History is a stunning, image-driven examination of the "uniquely American symbol of home and hearth."

For the word nerds, there's Word by Word: The Secret Life of Dictionaries, in which Kory Stamper welcomes the reader into the lively world of lexicography. Maybe you've got a friend whose favorite language is numbers — Wonders Beyond Numbers is the book for them. Johnny Ball follows the history of mathematics, tracking the ways in which humans started to understand shapes, numbers, and patterns. And Where the Animals Go, by James Cheshire and Oliver Uberti, merges wildlife and data, showing through beautiful infographics all that innovations in animal tracking have taught us.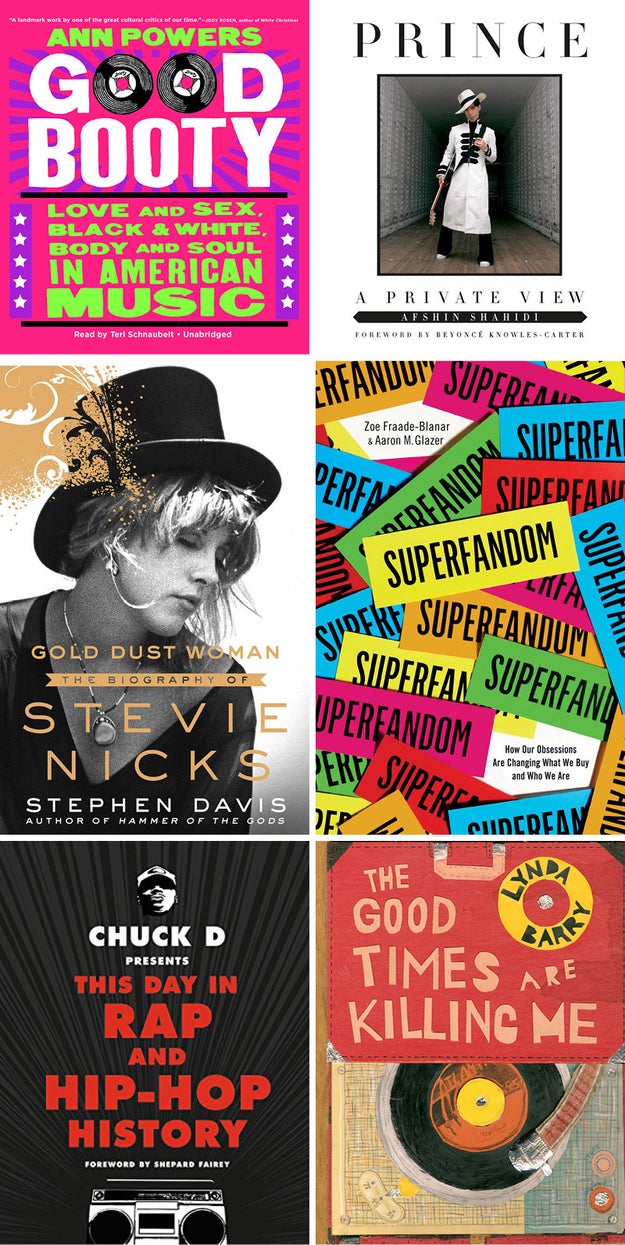 Macmillan / Hachette Book Group / Harper Collins / W. W. Norton / Drawn and Quarterly
Hone in on classic rock in Gold Dust Woman, Stephen Davis's best-selling biography of Stevie Nicks, or dive into something with a little more soul with photographer Afshin Shahidi's Prince: A Private View, an intimate portrait (literally — this book is very much image-based) of the late artist. For the hip-hop heads, there's Chuck D's This Day in Rap and Hip-Hop History, a comprehensive look at rap and hip-hop from 1973 to today.

Speaking of history, two books cross genre lines to examine social and cultural concepts through music: Ann Powers' Good Booty: Love and Sex, Black and White, Body and Soul in American Music looks at the ways in which we use music to communicate such fraught issues as race and sex; Superfandom by Zoe Fraade-Blanar and Aaron M. Glazer explores fandom itself — its history, stigma, psychology, and, of course, its effects on our economy.
For fiction fans, Lynda Barry's The Good Times Are Killing Me is a quick but heartfelt novel about race, class, and poverty in 1970s America, with each vignette connected by the protagonist's love of and connection to music.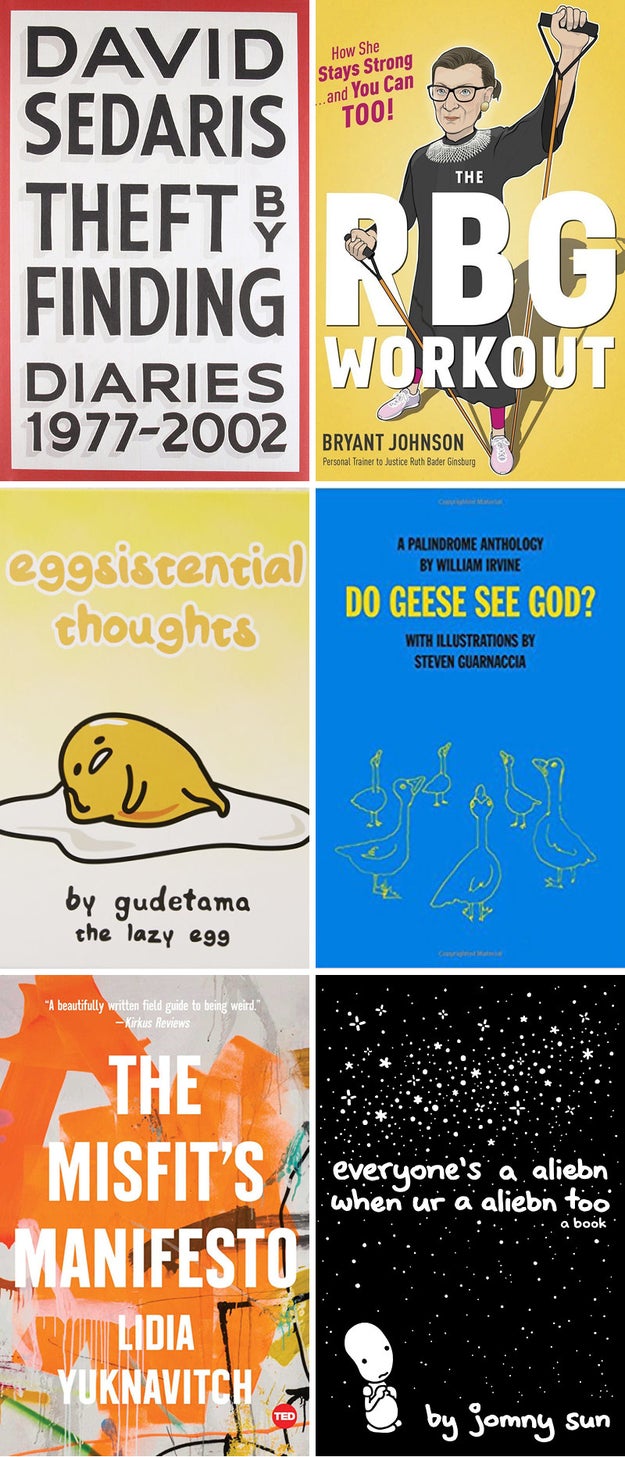 Penguin Random House / Harper Collins / Houghton Miller Harcourt / Schaffner Press / Little, Brown and Co / Simon and Schuster
It's a good year for deep thoughts from cute characters.
There's a decent chance your quirkiest friend is already on the Gudetama tip, but if not they will probably very much relate to Sanrio's most adorable character (sorry, Keroppi). Eggsistential Thoughts by Gudetama the Lazy Egg offers musings and ennui on par with the best of history's thinkers, delivered by an impossibly adorable egg. Then there's Jomny the lonely alien, trying to understand the big ideas that make up life on Earth — relationships, identity, survival — in Everyone's an Aliebn When Ur a Aliebn Too by Jomny Sun.

For the silly folks, you've got The RBG Workout by Bryant Johnson, Ruth Bader Ginsburg's certified personal trainer — quirky concept, real workout. Do Geese See God? is a collection of utterly charming palindromes by language master William Irvine, each paired with illustrations by Steven Guarnaccia.

David Sedaris has one of the most fascinating — often twisted — minds out there and Theft by Finding: Diaries 1977–2002 gives readers a front-row seat to his poignant and hilarious thoughts and observations. For those who like to consider the value of weirdness more seriously, there's Lydia Yuknavitch's The Misfit's Manifesto — an impassioned defense for not fitting in.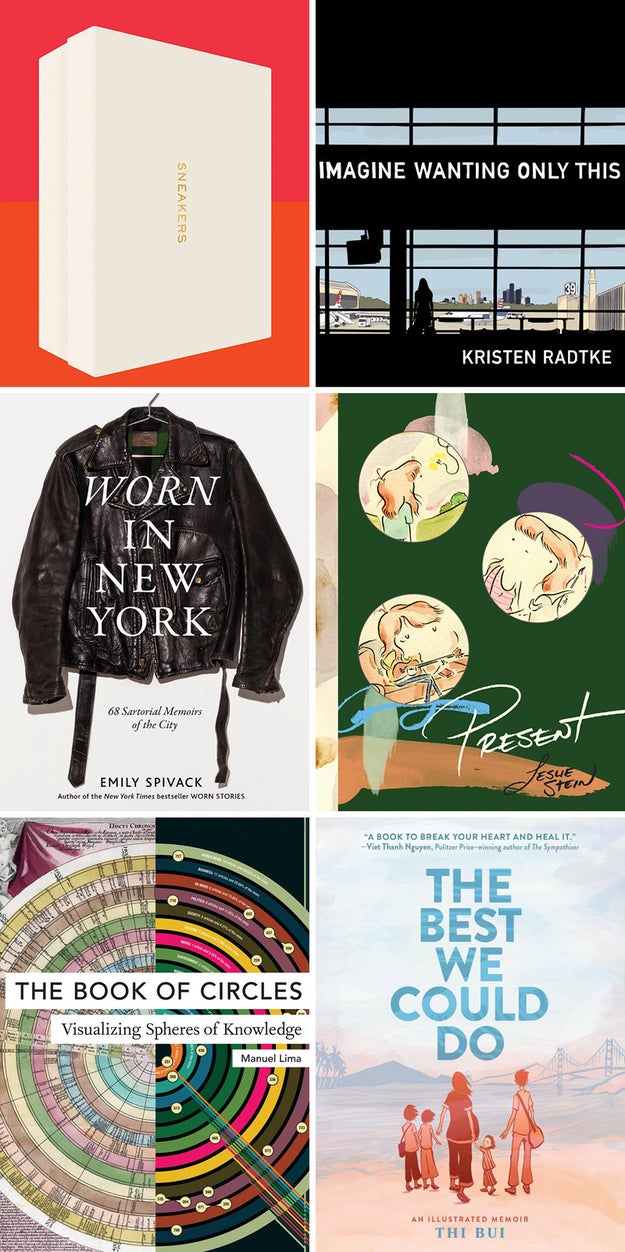 Drawn and Quarterly / Abrams Books / Penguin Random House / Princeton Architectural Press
No excuses! Even the busiest person can make time for these beautiful collections and graphic novels — especially since many of these are perfect for picking up months after you left them, no worries about remembering what happened last.
Leslie Stein's Present is a collection of diarylike graphic short stories — frank, charming, insightful meditations on daily life that manage to be sentimental but not cloyingly so. Emily Spivack's Worn in New York is made up of short stories — this time centered on clothing and accessories that each storyteller (including Eileen Myles, Jenji Kohan, and Adam Horowitz) associates with New York, and paired with spare images of those items. Sneakers, by Rodrigo Corral, Alex French, and Howie Kahn, is also an anthology of sartorial tales — technically about sneakers but really much broader, touching on design, branding, street culture, and entrepreneurship.

The graphic memoirs of the group — Kristen Radtke's Imagine Wanting Only This, a poignant meditation on abandonment by people and of places; Thi Bui's The Best We Could Do, an intimate tale of family, immigration, and displacement — are a little bit more of a time commitment, but so, so worth it. (Check out a story by Kristen Radtke here.)
And for a collection of fascinating facts, there's Manuel Lima's The Book of Circles, full of circular diagrams about circles themselves, and the shape's connection to subjects as wide-ranging as architecture, urban planning, fine art, design, technology, religion, and science.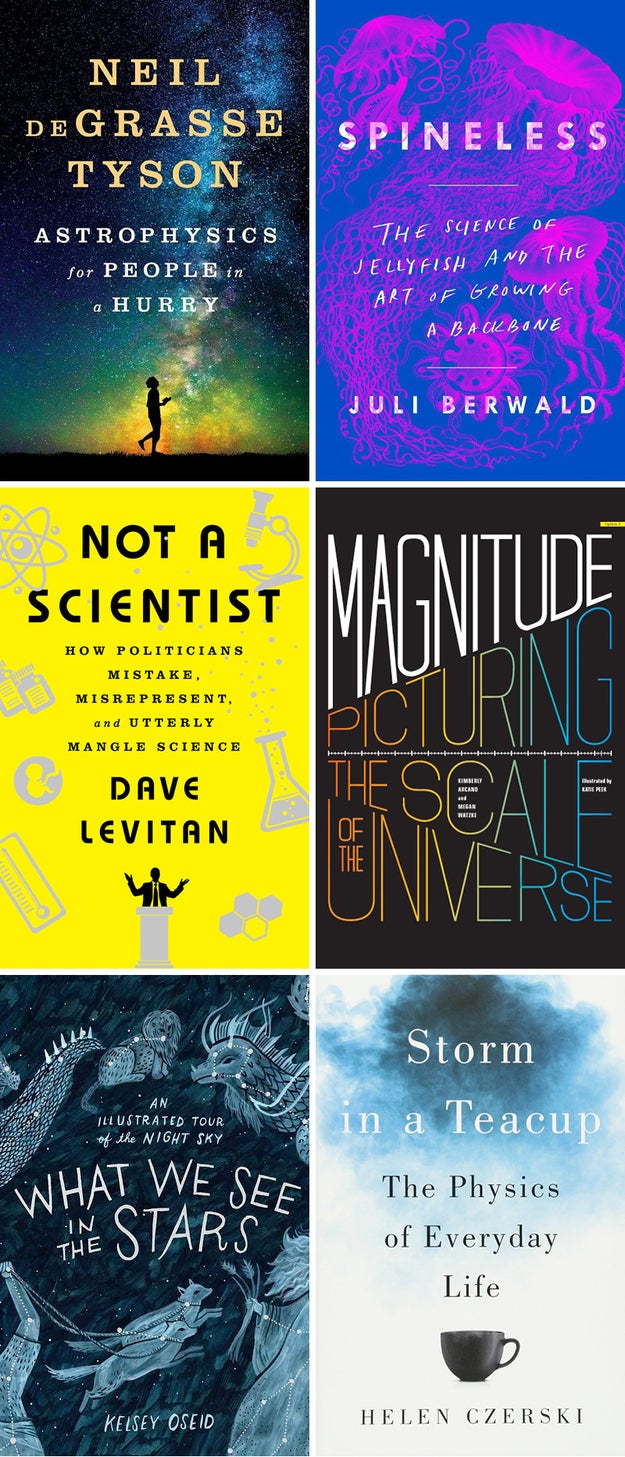 Penguin Random House / W. W. Norton /
Trust me when I tell you that readers DO NOT need to be professionals to appreciate these books. These books are science brought down to earth, accessible to those with a casual interest but still worthwhile to those who could handle the most technical of texts.
Spineless: The Science of Jellyfish and Growing a Backbone is as much about Juli Berwald's path toward the confidence to take a risk in her career as much as it is about the creatures who inspired her to do so, and it's perfect for the science lover who leans toward literature. For those energized by politics, Dave Levitan's Not a Scientist is an examination of the history and effects of political manipulation of science.
Magnitude: Picturing the Scale of the Universe, by Kimberly Arcand and Megan Watzke, illustrates the utter immensity of the universe, and is not only a super-effective way of reminding the reader that she is a tiny, tiny speck in the grand scheme of things, it also makes a great coffee-table book. Ditto What We See in the Stars, in which Kelsey Oseid renders the history, science, and myths of our solar system in stunning hand-painted art.
Celeb scientist Neil DeGrasse Tyson's Astrophysics For People in a Hurry is a great beginner's guide, offering info on everything from quantum mechanics to black holes to the search for alien life, all in bite-size chunks. And Helen Czerski's Storm in a Teacup brings physics close to home, linking everyday objects to such fundamental principles of gravity and time, and to such big issues as the energy crisis and medical testing.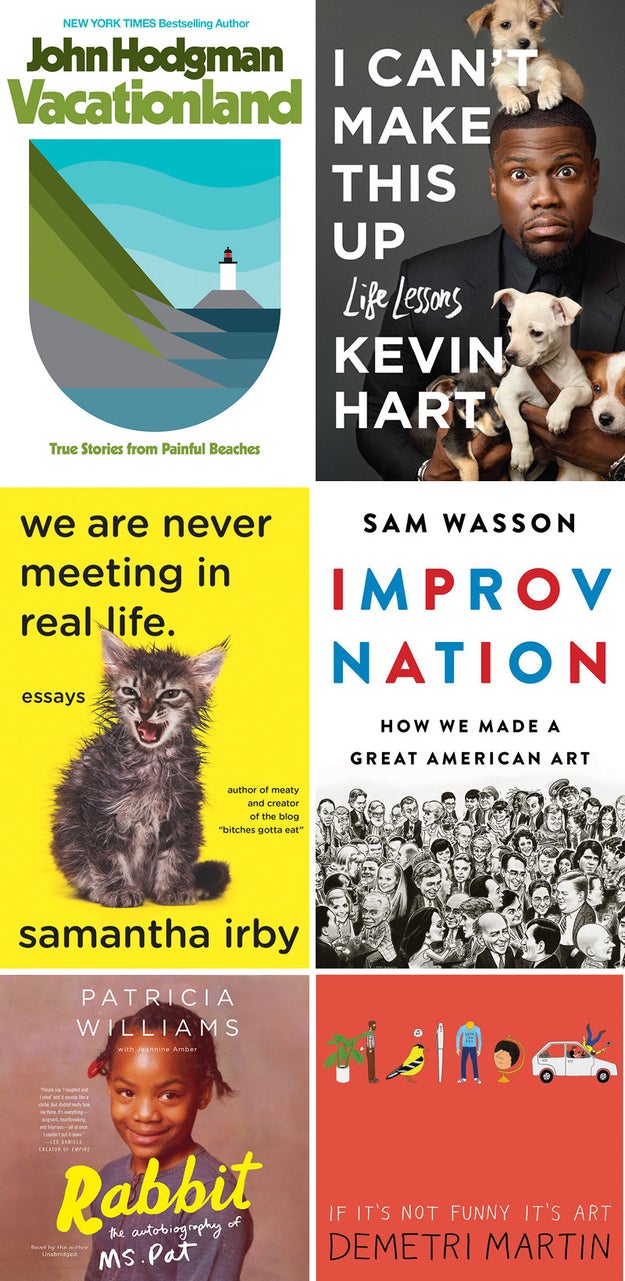 Simon & Schuster / Penguin Random House / Harper Collins / Houghton Mifflin Harcourt / Hachette Book Group
It was a good year for the comedian memoir: Kevin Hart's I Can't Make This Up is a heartfelt and inspirational tale of beating the odds. Samantha Irby's We Are Never Meeting in Real Life is a collection of artful essays poking fun at Irby's romantic foibles, ailments, and general awkwardness — all in her signature hilarious voice.

Patricia Williams' Rabbit is as brutal as it is funny, describing her hard-knock childhood (pickpocketing drunks at age 7 for survival, mother of two by 15) and the ways in which she struggled her way to success. At the polar opposite is John Hodgman's Vacationland, a collection of essays about, yes, his multiple homes, but Hodgman is frank, self-aware, and ready to call himself out for his "white privilege mortality comedy." It helps that the book is laugh-out-loud funny.

For something more historical, there's Sam Wasson's Improv Nation: How We Made a Great American Art tracking the rise of unscripted comedy, from the word-of-mouth success of Chicago's Second City through the present, when some of the biggest players in improv are claiming a huge stake in modern culture. Something light and silly more your speed? Grab Demetri Martin's If It's Not Funny It's Art, a collection of wacky drawings about art, life, death, and, of course, farts.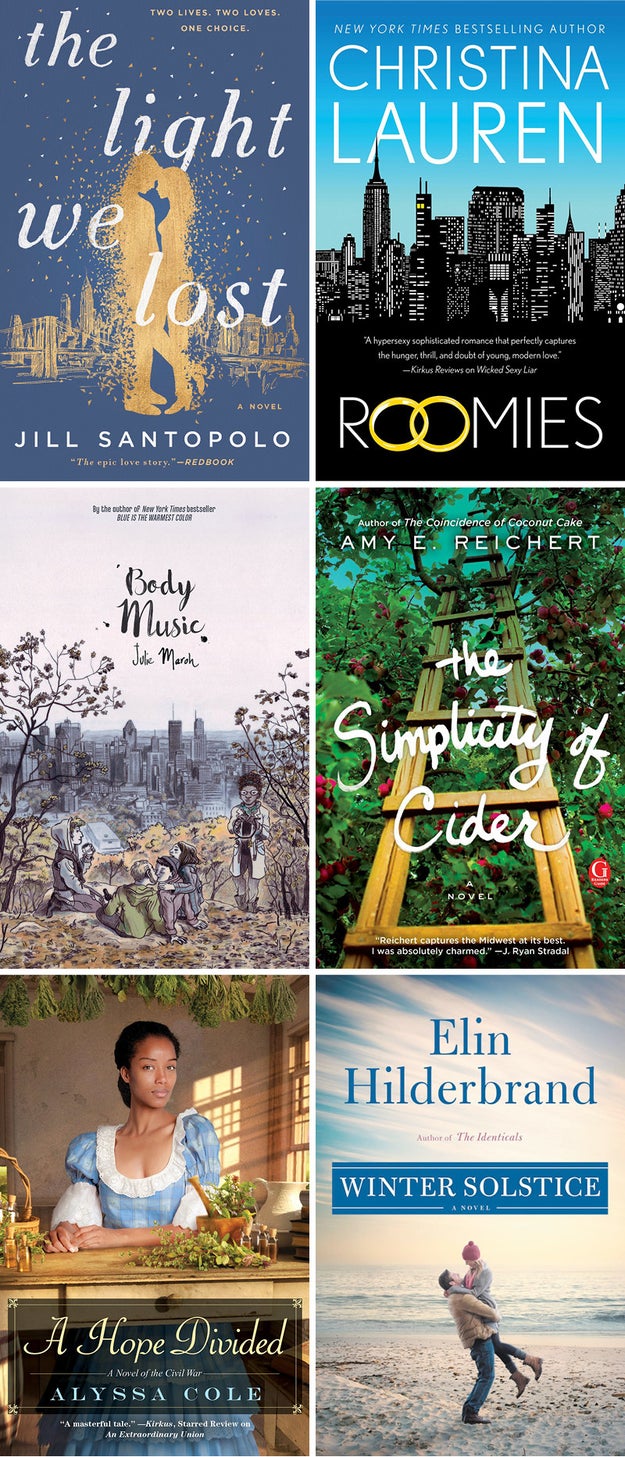 Penguin Random House / Kensington Books / Simon & Schuster / Arsenal Pulp Press / Hachette Book Group
Read More