"Learning that you're not alone is a major part of recovery."
Warning: Some of these images and stories may be disturbing to the reader. Also, treatment for mental health is deeply personal and what works for one person might not work for you, so always consult with your doctor about your own health and wellness.
"I'm mentally and physically stronger than ever."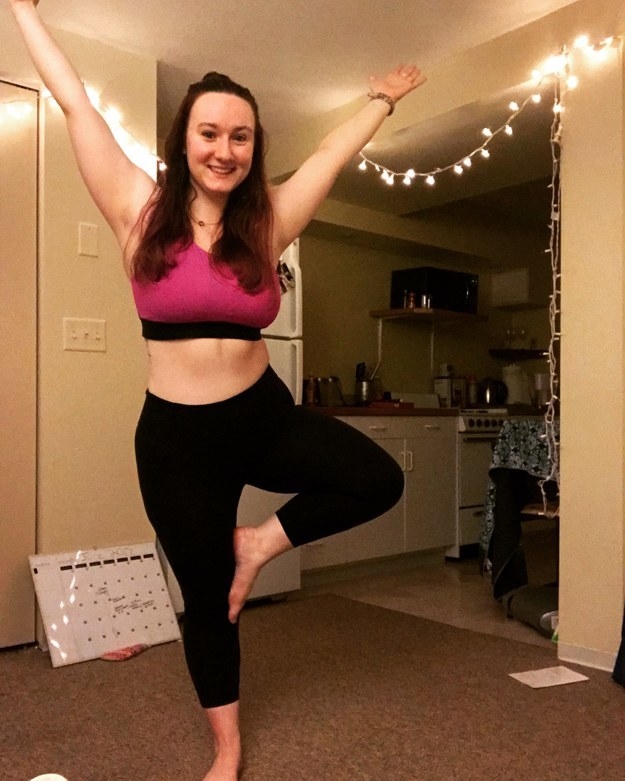 "In the last year, it became alarmingly apparent that all my "overthinking" has actually been anxiety, and on top of that, I was sexually assaulted on my 20th birthday. Flash forward to summer 2017: I started going to therapy and doing yoga! Now I swear by yoga. It feels so amazing to sweat all my toxins away and come out of a class in a peaceful daze. I'm mentally and physically stronger than ever and I'm so hyped about it!" —haileyw4636b1c54
"I was diagnosed with severe postpartum depression and social anxiety last year when my baby was four months old. At that time, my days consisted of me lying on the floor while my son played because I simply had no energy or desire to do anything other than keep my son alive and happy. My marriage was on the rocks, I had no friends, and I had constant suicidal ideation. Then I took the step to start therapy and my life changed. My therapist recommended using mindfulness and it absolutely changed my life. Today my marriage is stronger than ever and I feel free for the first time in my life. I am actually myself now, and that is amazing to me." —savannahl4fb56b06b
"Last December, I would only wake up to sob my way back to sleep. I finally got to a psychiatrist and fought for new medication: he finally prescribed Latuda. A few days after I started taking it, everything changed. I was getting out of bed again, answering my phone, brushing my teeth — all the things that go out the window when deep depression hits. I smiled again on December 28th and haven't looked back." —alyssab1987
"I can work my ass off and at least give myself that."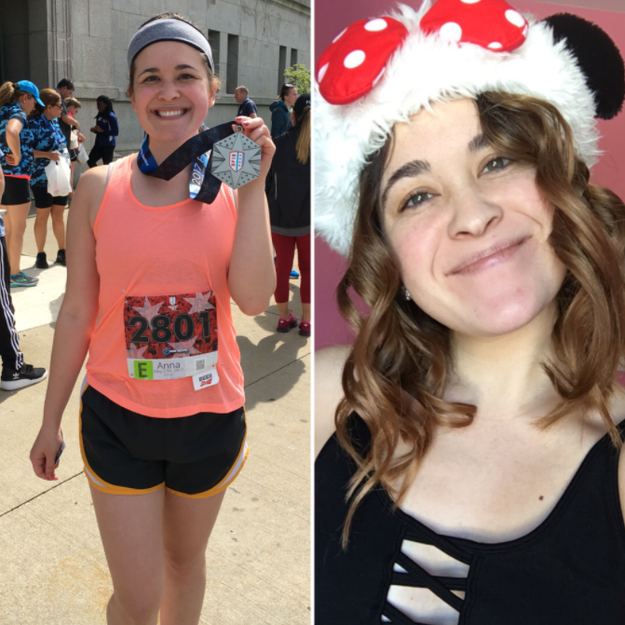 "I finally recognized my ~glow-up~ after years of feeling like garbage from my anxiety and depression. This is the first winter in my entire life (25 years) that my depression hasn't consumed me, and I can credit that to working out until I am truly exhausted (sounds FAKE but I SWEAR), lots of vitamin D pills, and therapy. I also learned that a lot of the meds I've been taking the last few years have just been fucking with me and personally making me worse. I'm NEVER going to be *healed* and it still comes and goes, but I can work my ass off and at least give myself that." —annakopsky
Anna Kopsky
"After struggling with depression and anorexia my whole life, I decided to do something for myself and I took an aerial silks class. Suddenly, I felt happy and strong, and I had to take care of myself in order to keep up with it. I've now been training in circus acrobatics for three years and I wouldn't trade it for anything." —m44932a784
"Seeking treatment for my eating disorder was the best decision I ever made."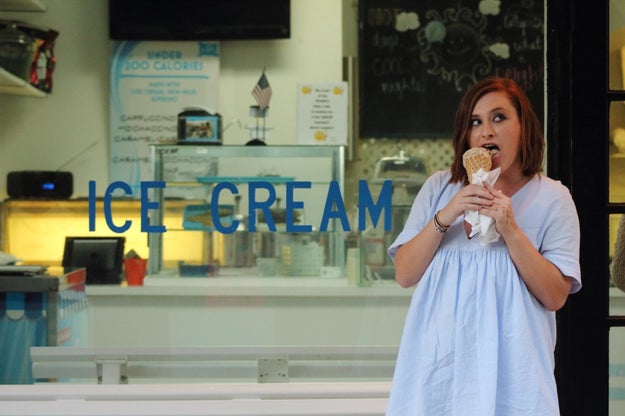 "I ended up taking the second semester of my freshman year off to seek residential treatment for my eating disorder and it was by far the best decision I ever made. Since then I've gained weight, but more importantly I've gained a whole life. It can be difficult at times, but doing things like writing for posts like these, writing for The Mighty, telling my story to people who are currently in treatment have all made it so worth it. Most recently, I started running the Miami chapter for Project HEAL, a non-profit organization that provides treatment grants to those who are unable to access the care so many people need, but are unable to receive. What keeps me safe is remembering I would not be able to live the fulfilling life I do now if I was to give in to my eating disorder." —daniellelowe
"During my junior year of college, I was a resident advisor and a biology major. My course load was overwhelming and I ended up having severe panic attacks three to five times a week. Then I started therapy. I quit the job that was weighing me down, switched my major to nursing, and got a kitten. You can always make it through, no matter how impossible it may seem!" —samanthaw44b4f7c82
"Accept your mental illness, recognize it, and work with it."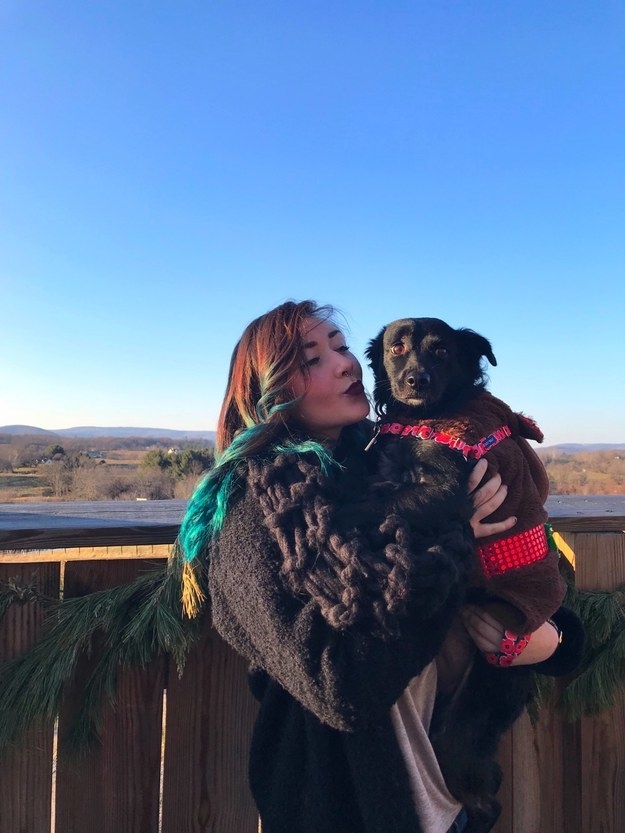 "I was diagnosed with bipolar disorder and PTSD. In high school and college, I had multiple suicide attempts, struggled with medication and self-harm. It wasn't until my sophomore year of college that I decided the only way things would change was if I tried to change them. I began therapy and I started communicating openly with my family about how I was feeling. I even got an emotional support dog, Fleur, who has helped me with being alone and traveling. I haven't self-harmed in two years, and I've been off medication for a year. However, I always reach out to my therapist when I'm struggling. Given my experience, my advice to others is to accept your mental illness, recognize it, and work with it." —callief44ae43791
"I was a frail kid, cognitively disabled, and gay. I became depressed and struggled with anxiety and OCD, and eventually lost an academic scholarship. Thankfully, I discovered Tumblr and VK. It was on these social media platforms that I discovered intersectional feminism and was able to connect with others in the LGBTQ+ community. Now I'm at school again (on a scholarship!), I'm top of my class, and I've made friends that accept me for who I am and support me no matter what." —uhaya
"It took me two years to find the right medication and doctor, but I'm so happy now."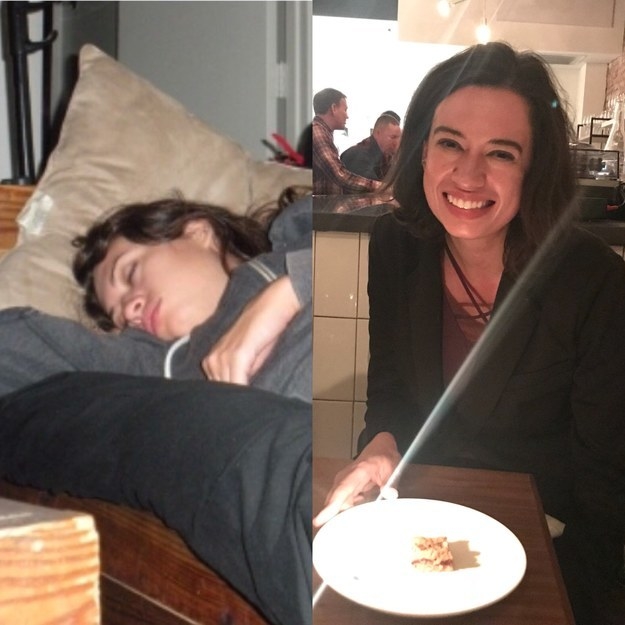 "In college, I was so down that I'd sometimes sleep for 15-16 hours a day. I was nervous, anti-social, and at my lowest point, I cut off all my hair in a cry for help. Fast forward to four years ago, when I was diagnosed with depression and general anxiety. It took two years for me to find the right medication and doctor, BUT I AM SO HAPPY now! I'm healthy, stable and my hair is finally growing back!" —maddb
"When I developed an eating disorder in college, I was told by my doctor that my kidneys were failing and I was weeks away from death. I knew it was time to seek the help I so desperately needed. After two months of residential treatment, I was finally on the road to recovery. I'm happy and proud to say that by my wedding day, I was in a much, MUCH better place, both mentally and physically. Today, I am fully recovered from my eating disorder (and have been symptom-free for going on two years now), but I still struggle with my other mental illnesses on a daily basis. Some days are much more challenging than others, but unlike before, I now have a toolbox of coping mechanisms as well as professional support from an excellent therapist and psychiatrist, all of which has helped tremendously." —Lexirose0520
"Getting my mental illnesses diagnosed and treated not only helped stabilize me mentally and emotionally, but also gave me the courage and reassurance to pursue a career in medicine." —jordanh452db4d1b
"Acting as a mentor to kids renewed my sense of purpose."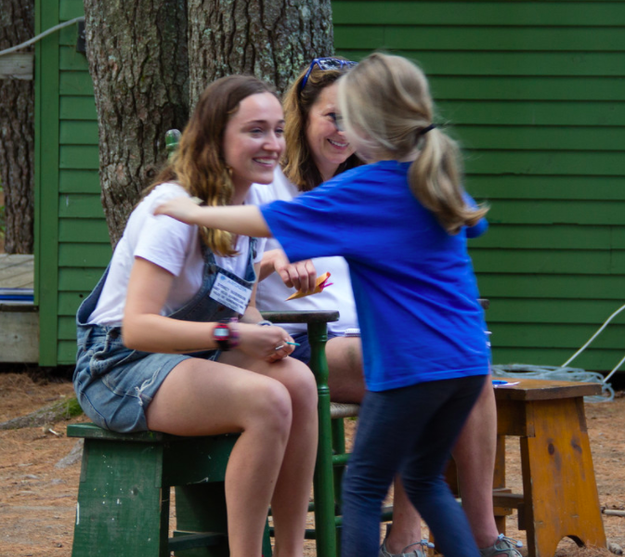 "I've dealt with anxiety, depression, and OCD since I was 15. For a while, I had a hard time connecting to other people and I struggled to find medications that worked for me. Then a couple summers back, I decided to go work as a counselor at the sleep-away camp I went to as a kid. At the camp, I was able to bond with a bunch of campers and counselors and be a support system for them, and them for me. Acting as a mentor to the kids renewed my sense of purpose, and being a part of the community there made me feel happy, confident, and valued. Throughout all these years, camp has always been my happy place." —sydrobinson1
Syd Robinson
"Back in 2014, I was hospitalized twice for suicidal ideation. I was so depressed that I couldn't hold down a job or even live safely on my own. However, I was lucky enough to be able to move back in with my family and have access to comprehensive mental healthcare. Finally after three years of intensive treatment, I'm proud to say that I've been accepted to an Ivy League graduate school where I plan on studying to become a social worker." —anotsmallgirl
"I now feel much more confident about myself and who I want to be."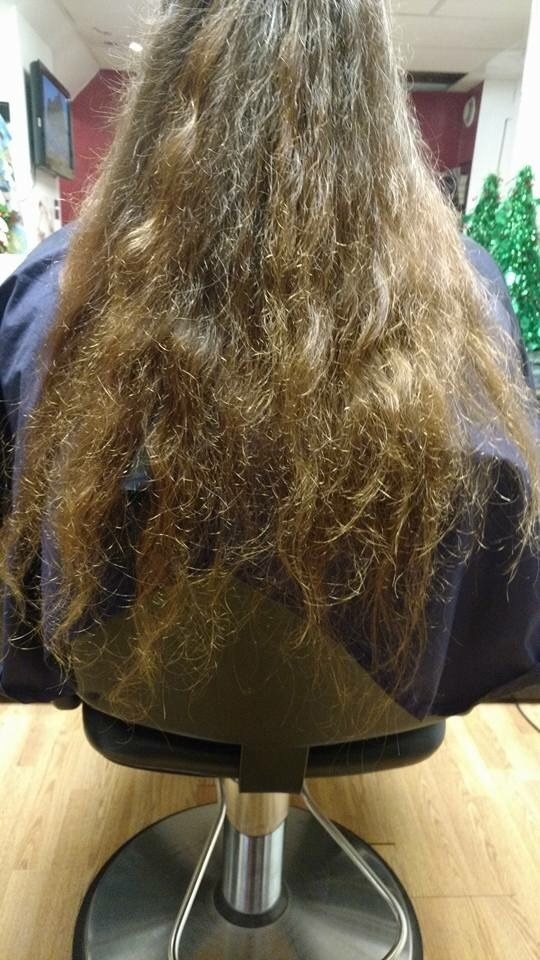 "I suffer from anxiety and panic attacks. The majority of my panic attacks would happen while I was sleeping, so I was always exhausted in the morning. Because of my lack of sleep and grueling college courses, I stopped taking care of myself. I eventually gained 100 pounds and ended up with bald spots and frizzy, dry, unkept hair. But after dropping out of university and working full-time instead, my stress lessened and I now feel much more confident about myself and who I want to be. Plus I got a haircut (this is the before pic) and I've lost 30 pounds... and counting!" —caitlinm473daf3a2
"At the start of 2017, like usual, ALL of my friends began dieting. Unlike most years, I felt very insecure that everyone would actually stick to their resolution and get into shape. Being someone who is diagnosed with general anxiety, OCD and depression, I started to obsess over the idea of being thinner than all my friends. Being a social worker, I was well aware I had began to develop an eating disorder and it became very obvious to the people around me. But since then, I've joined CrossFit and I eat healthily. I've transformed my body from frail and sick to strong. My physical change is great, but my mental change is even better!" —courtneybetch
"I finally feel like a whole person again."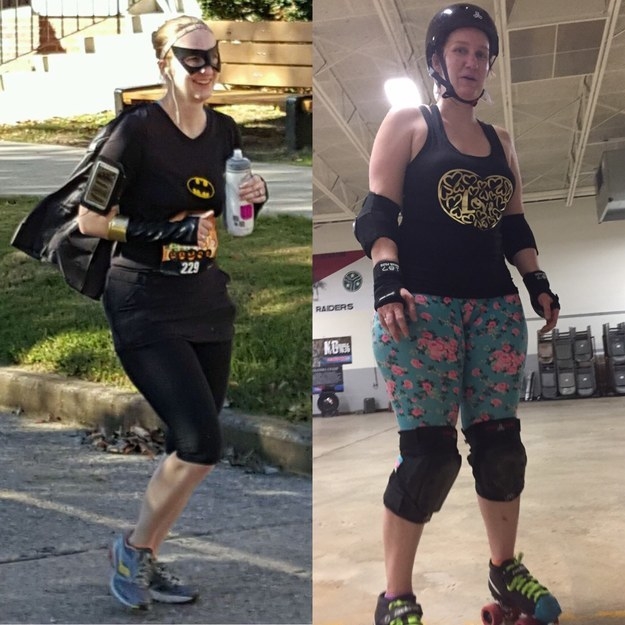 "After I moved to a new city, my depression exploded. I hated my body and myself, and I was so depressed, I could barely get out of bed. It took two years, but I finally got my meds sorted, gained 40 pounds, discovered roller derby and body positivity and I finally feel like a whole person again." —dalyhenningm
"I lived with an eating disorder for three years. Although I still struggle with my relationship with food, I'm now in a supportive relationship seven years later with the best husband, I have the most clever and wonderful daughter, and two amazing dogs. My family is my glow-up." —cbentley0814
"I've learned to love myself and my body and that's been the most amazing glow-up!"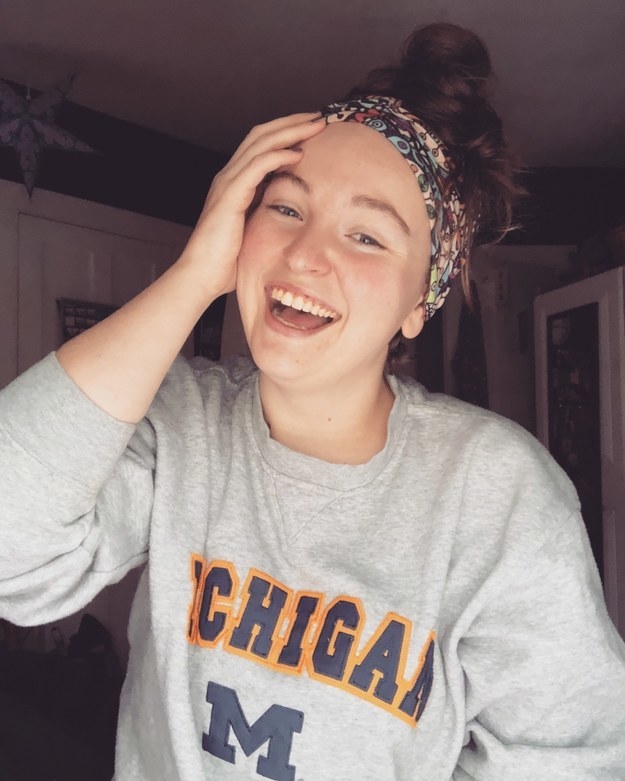 "I battled an eating disorder since the age of nine that left me with very serious health (mostly heart) problems. When I turned 23, I think something in my brain just clicked and I said enough is enough. I dove head first into personal development books, self-help articles and therapy. I spent every day working hard at it — I read 20 books and filled three journals with affirmations, feelings and hopes for what my life would become. One year later, I'm the happiest and healthiest I've ever been. I've learned to love myself and my body and that's been the most amazing glow-up!" —mollyp4ca8d4b1a
"I have struggled with depression, anxiety, and PTSD for several years. I began using drugs and alcohol to self-medicate, and soon became extremely reliant on them. I couldn't hold on to a job, my relationships were strained, and I was in and out of hospitals and rehabs. Now, I'm approaching three years of sobriety, I will be graduating from college this semester with a 4.0 GPA, and I have learned healthy coping skills. I can't even recognize the person I was three+ years ago, and I'm totally okay with that!" —kelseyk4ddd0391a
"Learning that you're not alone is a major part of recovery."
"I struggled with depression highs and lows, always just waiting for the sadness to pass. At my lowest, I decided then that I couldn't wait anymore and I needed to make deliberate choices for my well-being. I started practicing yoga, reading self-help books, spending more time outside in the sunlight, and getting more sleep. I also started a blog to discuss the internal struggles I was experiencing. It was so uplifting to have others respond with encouraging words and similar experiences. Learning that you're not alone is a major part of recovery." —mackenziek497fcaee9
"I was hospitalized for depression and suicidal thoughts at 16, and my mental health has been a roller coaster ever since. As I've grown up, I've worked at breaking the stigma behind mental illness by openly talking about my depression and anxiety, as well as the facts that I'm on medication and seeing a therapist. I've realized IT'S OKAY to need a little help sometimes! I still have bad days, but now I'm able to take a deep breath, look around my house that I share with my husband and our two cats, and realize that even though my life isn't always perfect, it's MINE." —stephanied4bf8f054a
If you are thinking about suicide or just need to talk to someone, you can speak to someone by calling the National Suicide Prevention Lifeline at 1-800-273-TALK (8255) or by texting HOME to 741741, the Crisis Text Line. Suicide helplines outside the US can be found here.
Read More